non-surgical therapy Scaling and root planing
Non-surgical therapy in Los Angeles
Dr. Aalam and Dr. Krivitsky understand that periodontal health should be achieved with efficient, minimally invasive, and cost-effective ways, to best benefit each patient. Therefore, at the CENTER for Advanced Periodontal & Implant Therapy, we offer a wide range of non-surgical procedures to help patients achieve optimal periodontal health.
Contact our Brentwood office to schedule an appointment with our trusted periodontists and what the best course of action for your case is.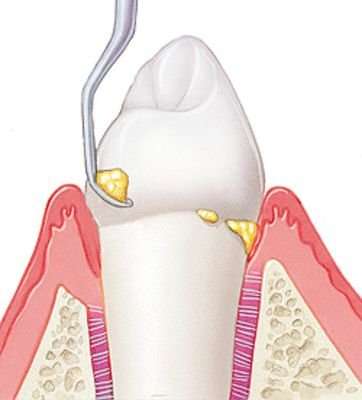 In the case where non-surgical therapy does not resolve in sufficient pocket depth reduction, further surgical pocket reduction may be necessary. In these cases, your experienced Brentwood Periodontists will assess your needs and determine the best course of treatment for you.
Following the non-surgical procedure, Dr. Aalam and Dr. Krivitsky may also perform additional therapy to further treat the infections, including treatment with antimicrobial medicine or systematic antibiotics.
The goal of Dr. Aalam and Dr. Krivitsky is to resolve patients' periodontal issues through non-surgical regenerative therapies, to avoid the need for additional treatment or surgery down the line. At the CENTER for Advanced Periodontal & Implant Therapy, we aim to heal patients through thorough and individualized care, so patients can maintain optimal oral health through at home care and routine visits to their periodontist.
The primary purpose of nonsurgical periodontal rehabilitation is to treat periodontal disease, by carefully removing bacteria and other toxins from under the gums and root surfaces. Healthy gum tissue should securely fit around each tooth. However in the case of periodontal disease, bacteria from plaque buildup can spread underneath the gums, damaging the gum tissue and causing pockets to form between the tissue and the tooth. If you display signs of aggressive gum disease, including severe bacteria and tartar buildup and formation of deep pockets, scaling and root planning is most likely the first procedure your dental care provider will use as part of the initial therapy.
Scaling and root planning is the processes of removing the buildup of plaque and tartar from the teeth and roots. The area is numbed and the periodontist will access the root surface to remove plaque, bacterial toxins and tartar. Root planning then smooths the rough patches on the roots' surfaces to prevent future bacteria and plaque accumulation below the gumline, enabling gums to properly heal and reattach to the tooth.

Virtual Brentwood Office Tour
GET TO KNOW OUR LA OFFICE!

GENTLE, AFFORDABLE & PAINLESS PERIODONTAL CARE
CENTER FOR ADVANCED PERIODONTISTS
CENTER FOR ADVANCED PERIODONTAL & IMPLANT THERAPY
11620 Wilshire Blvd #718, Los Angeles, CA 90025
★★★★★  5 Stars - Based on 133 Reviews