PERIODONTAL SCALING AND ROOT PLANING
At the CENTER, Brentwood periodontists, Dr. Alina Krivitsky and Dr. Alexandre Aalam's objective for periodontal scaling and root planing is to remove etiologic agents, which can cause inflammation to the gum tissue and surrounding bone.  Common etiologic agents removed by gum disease control therapy include dental plaque and tartar (calculus).  Periodontal scaling and root planning is a most effective methods of treating gum disease before it becomes severe.
Dr. Krivitsky and Dr. Aalam perform these non-surgical procedures, which completely cleanse the periodontium. This gum disease preventative procedure works very effectively for individuals suffering from gingivitis disease.
Periodontal Scaling
The periodontal scaling procedure removes calculus and plaque from the surface of the crown. In many cases, scaling includes an irrigation process that can also be used to deliver an antimicrobial agent below the gums that can help reduce oral bacteria.
Root Planing
This is a treatment that serves to remove cementum and surface dentin that is embedded with unwanted microorganisms, toxins and tartar.  The tooth's root is smoothed in order to promote proper healing.  It is important to have clean, smooth root surfaces to prevent future disease.
After root planing procedures, the gum pockets may be treated with antibiotics and homeopathic products to soothe gum irritation and help accelerate the healing process.
During the next appointment, Dr. Krivitsky or Dr. Aalam will thoroughly examine the gums and the healing progression of the gum pockets.  If the gum pockets still measure more than 4mm in depth, additional and more intensive treatments may be recommended.
Reasons for Periodontal Inflammation Reduction
Los Angeles periodontal scaling and root planing can be used both as a preventative measure against periodontal disease and as a stand-alone treatment. Here are some reasons why these procedures may be necessary:
Disease Prevention
Bacteria that cause gum disease infections can travel via the bloodstream to other parts of the body.  Periodontal scaling and root planing remove bacteria and halt gum disease from progressing, thus preventing further spread of bacteria to other parts of the body. Microbial sampling can also be done in order to identify specific bacteria and virus-caused periodontal conditions and provide a list of specific medications with which to treat them.
Tooth Protection
When gum pockets exceed 3mm in depth, it is a sign of periodontal disease. As gum pockets deepen, they tend to house more colonies of bacteria.  Eventually, a chronic inflammatory response by the body begins to destroy gingival and bone tissue, which may lead to tooth and bone loss.
Aesthetic Effects
Periodontal scaling and root planing can help remove tartar and plaque on the teeth, as well as below the gum line.  As an added bonus, stains that are present on the teeth will be removed in the process of the procedure.
Better Breath
One of the most common signs of periodontal disease is halitosis (bad breath).  Food particles and bacteria can cause a persistent bad odor in the oral cavity, which is alleviated with gum disease cleaning procedures.
Learn more about periodontal gum disease control in Wikipedia.org.
What to Expect From Periodontal Scaling and Root Planing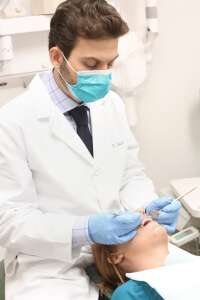 Periodontal scaling and root planing treatments are only performed after a thorough examination of the mouth.  X-rays and visual examinations are done to assist Dr. Krivitsky or Dr. Aalam in assessing patients before beginning any treatment procedures. Depending on the patient's gum condition, amount of calculus (tartar) present, depth of gum pockets and the progression of the gum disease, local anesthetic may be used.
Dr. Alina Krivitsky and Dr. Aalam are leaders in periodontal surgery and the only two Board Certified periodontists in Brentwood. They are confident dentists who use pain free and gentle treatment, as well as the latest in noise-reduced equipment, to handle any dental disease or problem with the gums. Together, they have helped countless patients improve their smiles, self-confidence, and overall oral health.
Contact Our LA Periodontists Today!
The CENTER is a periodontal office that provides excellent and skilled periodontal and implant therapy in a beautiful, soothing environment to restore oral health and aesthetics throughout Southern California.
Request an appointment to set up a consultation today.
Next, learn about advanced platelet-rich fibrin.