Patient Testimonials
Below are a few of our favorite patient testimonials. For peer testimonials please visit doctor testimonials.
Gum Recession Patient Testimonial
Dental Implant Patient Testimonial
Gum Recession Patient Testimonial
Gum Graft Patient Testimonial
Dental Implant Patient Testimonial
——————————————————————————————————————————–
Written Testimonials
I am so thankful to have gotten my deep cleaning, dental implant, and tooth pulled by Dr. Alex-Amir Aalam!! Every step of the way they run a 5 Star, Class A Operation with a real and true interest in the care of their patients. Not only did the Dr. give me his cell # so I could call him anytime but he literally left me a voice mail after the surgery to check in on me and remind me to call if I had any concerns or questions. I called around to a few places before getting my procedure done and not only are they the only one who offered IV sedation but their rates we're very fair as well.
The surgery went by in a flash (though what can you expect from twilight sleep) The best part is that the recovery could not have been better. I expected to be sore from such a procedure and there was no need for any pain medicine and no noticeable soreness. I have already gotten my check up with him and as expected my beginning stages of gum disease are gone my dental implant was put in perfectly. Thank God sense it is now a part of me, right?! Not only is Dr. Alex-Amir Aalam the most skilled I believe in the industry, but the personality and spirit of the place is what really sets them apart from any other type of spot I have ever been in my life. Did I mention they played Funk music relaxingly in the back ground… what else can I say?
-Brandon S.
——————————————————————————————————————————–
Great doctor, clean environment. Him and his staff give you that 100 percent attention that you need, checks up on you frequently to see how well you are doing once you have left his practice. Very professional, great at what he does. I absolutely recommend him.
-Mitra Z.
——————————————————————————————————————————–
Dr. Alina Krivitsky is an excellent periodontist with extreme knowledge and professionalism. The office staff are wonderful.
-Jacqui K.
——————————————————————————————————————————–
Dr. Alina Krivitsky took extra interest and went above and beyond to make sure that she was able to treat my painful condition with the utmost attention and professionalism. Her attentive nature and compassion helped me feel at ease. I highly recommend Dr. Krivitsy and her excellent staff!!!!!
-S.
——————————————————————————————————————————–
I went to Dr. Aalam to get all 4 wisdom teeth out at once. The office is very welcoming and the whole staff made me feel good about being there. I was terrified of the IV insertion at first, but before I knew it, Dr. Aalam said it was done! It was easy as pie and he was very gentle and kind.
I only had to take one pain pill on the first night and basically had no pain at all, ever after! Just perhaps some minor minor aching for a couple days which is normal. I had extremely minimal to no swelling at all and my slight swelling in one part of my cheek was gone in a matter of 3 days versus other people I see with swelling for a week! I was practically home-free after 4 days besides just taking antibiotic pills. My stitches were very impressive by how neat and thorough they were done and were dissolvable, disappearing after about 6 days.
I highly recommend Dr. Aalam to anyone looking to get wisdom teeth removed because his experience and expertise clearly shine in his work and add extra comfort and ease to the process. Getting my wisdom teeth out was smooth, quick and painless! It could not have been any easier. I am very happy I went to the right doctor!
If you are looking for a great doctor, look no further! 🙂 Dr. Alina and Dr. Aalam are a super nice couple who genuinely care for you and make things as painless and easy as possible.
My experience was a great one! Thank you to everyone at the Center for caring for me, especially the nice assistant who held my hand and helped me all the way outside to my Mom's car!
-Sheila F.
——————————————————————————————————————————–
What amazing doctors!
I have a family history of gum recession that has been getting worse over the years. I was determined to get gum grafts and spoke to the team about doing it. To my surprise, they were so helpful and talked me out of the procedure and gave me alternatives to surgery to help minimize the regression. So ethical and trustworthy. Highly recommend them. I plan to keep up with their recommendations and continue to get checked. But, if I ever need surgery, they are they only ones who can touch me!
-Tina K.
——————————————————————————————————————————–
I just want to say thank you so much to the team for their amazing services. A special thanks to  Dr. Alina Krivitsky for performing my gum surgery, she did an amazing job.
Before my gums were very swollen and covering up at least 50% of my teeth. The pigmentation was also very dark. But Dr. Alina changed everything. She removed all the extra gum tissue and also made the pigmentation on my gums pink again.
I always thought that my teeth were going to be so unattractive but thanks to Dr. Alina and her team, I don't have that problem ANYMORE. She really changed my life, I would never forget her! 🙂
Thanks and God Bless,
-D.W.
——————————————————————————————————————————–
"I am not one to ever write testimonials but Drs. Aalam and Krivitsky are by far the best doctors I have ever experienced and the world should know about them.  I have been to dentists throughout my life, and never have I even filled a cavity and came out feeling as good and pain free as I did after the gum procedure which was performed on me by these doctors.
Not too long ago I had visited a general dentist who suggested I go to these doctors for a consultation for my gums.  That same day these wonderful doctors fit me into their schedule, and they made me feel so comfortable with their experience and the procedure which they had recommended which made me decide to do the procedure that same day! I was shocked to see that after the procedure I did not have an ounce of pain, even though it was a major procedure requiring anesthesia.  Weeks have gone by since and my smile has only gotten better every day, and I did not require one pain killer throughout my healing period.  In doing a simple  root canal and having several cavities filled in my life, I have never had the painless experience which these doctors provided me with this surgery.
It was also important to me that Drs. Aalam and Krivitsky both called me on a few occasions after my procedure to check up on me, which is something I have never experienced with other doctors.  Furthermore, they made sure to bring me in on several occasions for checkups to make sure everything was healing well, which is again something I was not use to, and of course everything had healed beautifully!!
This experience was as good as visiting a Spa (I know that sounds weird) and I Have never been happier with my smile!
Thank you to these wonderful doctors for making me believe in their profession again!!!"
-Kam Y, Los Angeles
——————————————————————————————————————————–
Dr Krivitsky,
I would like to thank you for a job well done on my recent visit.
I was well informed about the procedure plus the work performed went as planned. I followed your steps towards recovery and the outcome was perfect. For being my first time with this correction I would certainly prefer your services again.
Best wishes
-Andrew M.
——————————————————————————————————————————-
Dr. Krivitsky,
I would like to thank you and your staff for the care and professionalism you gave me during my implant procedure.
You let me know step by step the procedure, you were very gentle and it was as painless as could be. Your chair side manner was magnificent.
You are an asset to your profession. I would recommend you to everyone in need of a periodontist.
Thank You very much,
-Stacey H.
——————————————————————————————————————————–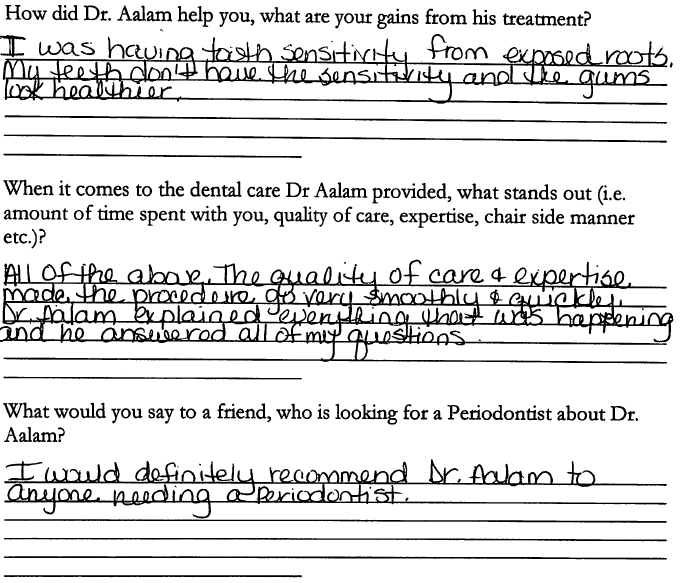 I was having tooth sensitivity from exposed roots. My teeth don't have the sensitivity and the gums look healthier.
All of the above. The quality of care and expertise made the procedures go very smoothly and quickly.  Dr. Aalam explained everything that was happening and he answered all of my questions. I would definitely recommend Dr. Aalam to anyone needing a periodontist.
-Robin B.
————————————————————————————————————————————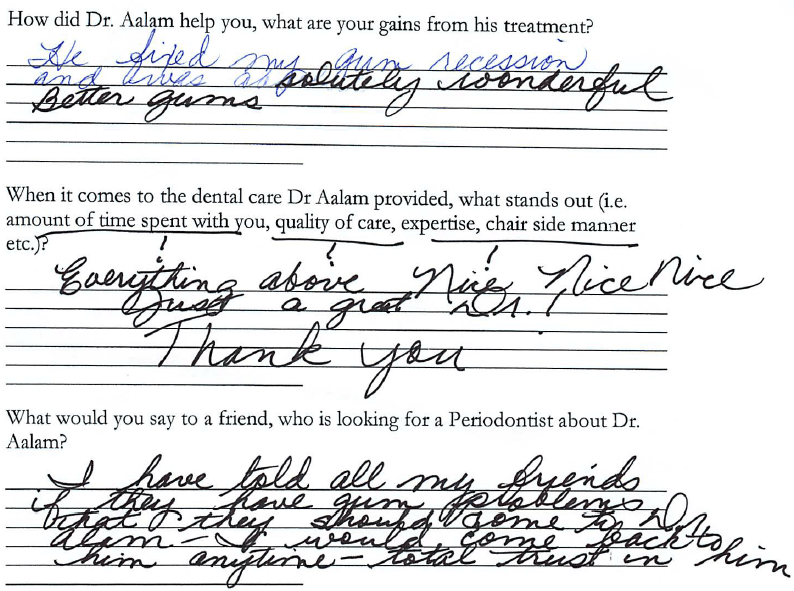 He fixed my gum recession and was absolutely wonderful. Better gums.
Everything above NICE NICE NICE. Just a great Dr. Thank you.
I have told all my friends if they have gum problems that they should come to Dr. Aalam.  I would come back to him anytime- total trust in him.
-Margaret H.
————————————————————————————————————————————-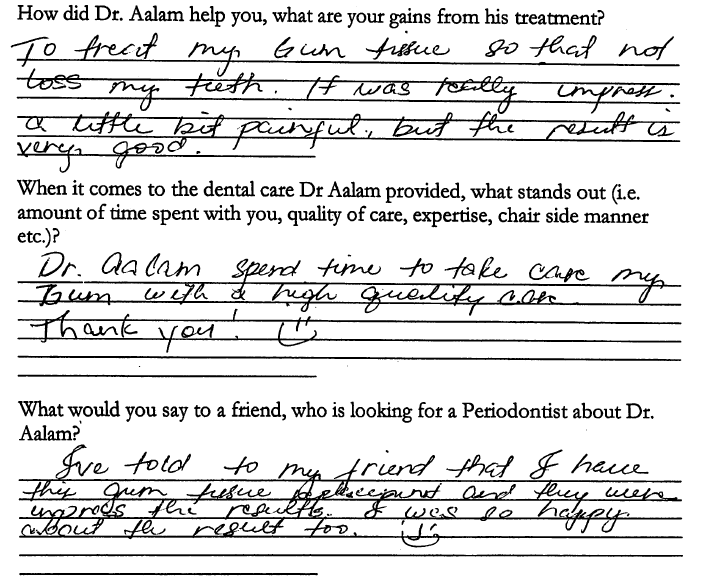 To treat my gum tissue so as not to lose my teeth.  It was really impressive.  A little bit painful, but the result is very good.
Dr. Aalam spent time to take care of my gums with high quality care.  Thank you! 🙂
I've told my friends that I had this gum tissue procedure and they were impressed with the results.  I was so happy about the results too. 🙂
-Rosalin H.
——————————————————————————————————————————–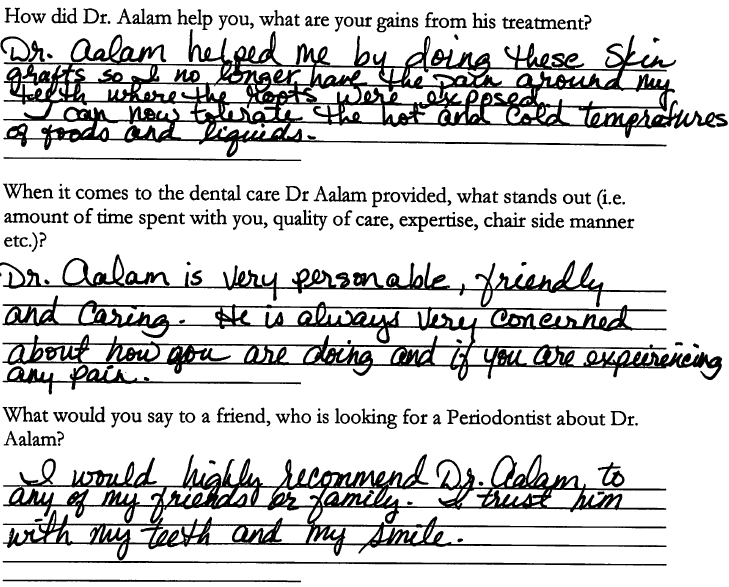 Dr. Aalam helped me by doing these skin grafts so I no longer have the pain around my teeth where the roots were exposed. I can now tolerate the hot and cold temperatures of foods and liquids.
Dr. Aalam is very personable, friendly and caring. He is always very concerned about how you are doing and if you are experiencing any pain.
I would highly recommend Dr. Aalam to any of my friends or family. I trust him with my teeth and smile.
-Susan M.
——————————————————————————————————————————-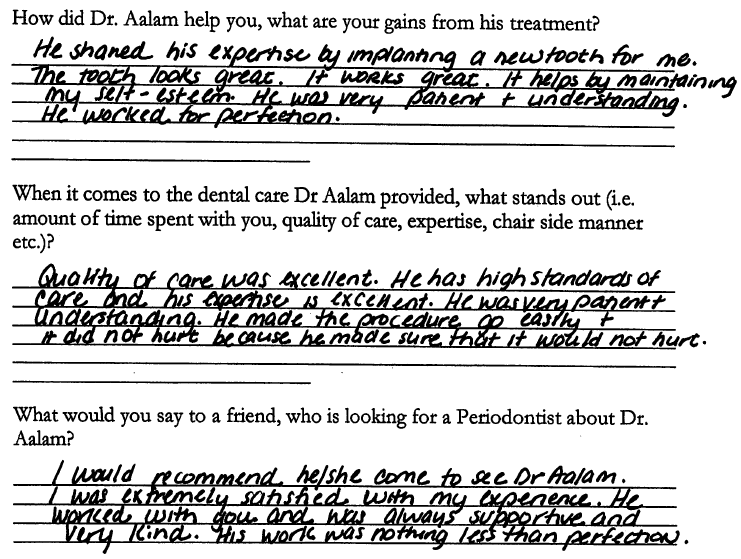 He shared his expertise by implanting a new tooth for me.  The tooth looks great. It works great. It helps by maintaining my self-esteem. He was very patient and understanding. He worked for perfection.
Quality of care was excellent. He has high standards of care and his expertise is excellent. He was very patient and understanding. He made the procedure go easily and it did not hurt because he made sure that it would not hurt.
I would recommend he/she come to see Dr. Aalam. I was extremely satisfied with my experience. He worked with me and was always supportive and very kind. His work was nothing less than perfection.
-Judy R.
Next, please check out additional helpful links.