Surgical and Non-Surgical Procedures
If you have advanced periodontal disease, your gum tissue may not respond to non-surgical treatments. In extreme cases, not even good oral hygiene and maintenance is enough. In such cases, and after all non-surgical options have been considered, Dr. Aalam and Dr. Krivitsky in Beverly Hills may take a surgical approach to address the issue.
SURGICAL PERIODONTAL TREATMENTS
Periodontal Surgeries:
Pocket Reduction Surgery

In this procedure, Brentwood periodontists, Dr. Krivitsky and Dr. Aalam make tiny incisions in your gum so that a section of gum tissue can be folded back, exposing the roots to remove the disease-causing bacteria and to recontour the disease-affected irregular bone. Once the pocket surgery procedure is done, the gum tissue is sutured back into place for reattachment to healthy bone. This is done as a treatment for gum disease to facilitate oral hygiene and to prevent further bone loss.
Bone Grafting (Regeneration)
The dental bone graft procedure is performed when periodontal disease has destroyed the bone surrounding the root of your tooth. The graft may be composed of small fragments of your own bone, synthetic material, or donated material. The bone graft helps prevent tooth loss by holding your tooth in place.
Crown Lengthening

Sometimes teeth appear short when they are actually the proper lengths, but are covered with too much gum tissue. This can be corrected with a dental crown lengthening procedure. In this procedure, excess gum and bone tissue are reshaped to expose more of the natural tooth. Crown lengthening may also be used to expose a part of the tooth that needs to be restored, or for gummy smile correction.
Contact a Periodontist Now!
NON-SURGICAL PERIODONTAL TREATMENTS
For some patients, non-surgical treatments, maintenance, and good oral hygiene might be enough to reverse the effects of mild periodontal disease. Non-surgical treatments are less invasive and also help preserve overall oral health.
Periodontal Non-Surgical Procedures:
Scaling
Periodontal scaling removes tartar and bacteria from the surface of your tooth and beneath your gums. It may be performed by using hand instruments or an ultrasonic device.
Root Planing
Root planing smoothes the root surfaces and removes bacterial toxins, discouraging further buildup of tartar and plaque. In some cases, it may be followed by a local delivery of antimicrobial agents.
Learn more about root planing from WebMD.com.
GUM DISEASE LOS ANGELES SPECIALISTS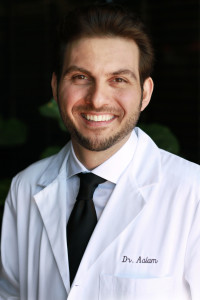 Dr. Alexandre Aalam is a renowned periodontist who specializes in periodontal bone grafting. He has been teaching at the University of Southern California for almost a decade and has held lectures on periodontology both nationally and internationally. Dr. Aalam uses his implant therapy, intraoral osseous transplantation, and sedation sleep dentistry expertise to help improve the smiles, oral health, and aesthetic appearance of his patients.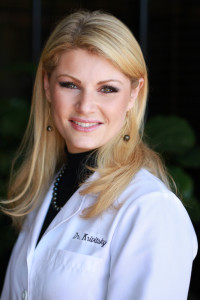 Dr. Alina Krivitsky specializes in gum and osseous surgery treatments, of periodontal disease, and both soft and hard tissue augmentation. Dr. Krivitsky is focused on putting the patient first, and always provides each patient with individualized care and treatment. She is well-trained in aesthetics, committed to maintaining and creating healthy and natural looking smiles, and always uses the best treatment options available.
The CENTER is a periodontal office focused on providing patients with excellent and skilled care, with the goal of restoring oral health and aesthetic appearance. The office is a beautiful environment in Beverly Hills with a soothing design in which the latest quiet equipment is used for the comfort of the patient. Pain-free and gentle treatment meets affordability, and several payment options are available.
If you are suffering from periodontal disease, schedule a consultation with Los Angeles periodontists Dr. Aalam or Dr. Krivitsky today by calling (310) 299-8329. Contact us today.
Next, read about dry socket prevention.