New Receding Gums Treatment Shown In Los Angeles TV News Story
Receding gums can now be corrected with the RejuvaGum Lift™, a new procedure that eliminates the need to graft tissue from the roof of the mouth to cover gum recession. Periodontists Dr. Alexandre Aalam and Dr. Alina Krivitsky show how the RejuvaGum Lift™ is done in this ABC 7 news story. Dr. Aalam and Dr.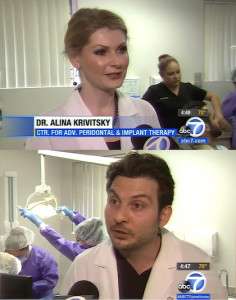 Krivitsky are offering the minimally invasive treatment at the CENTER for Advanced Periodontal & Implant Therapy in Los Angeles.
The procedure is done by drawing a small amount of the patient's blood and processing it through a centrifuge to obtain platelet rich fibrin, which forms into a clot-like substance. The PRF is then prepared and placed into the gums through small incisions at the areas with recession which spurs regeneration of gum tissue and promotes root coverage.
With the RejuvaGum Lift™ there is no need to remove a section of tissue from the roof of the mouth, which is often a painful part of traditional gum grafting. The technique was first developed in France. For information visit Center for Advanced Periodontal and Implant Therapy and call (310) 299-8329. CENTER for Advanced Periodontal & Implant Therapy, Los Angeles, CA (Brentwood)